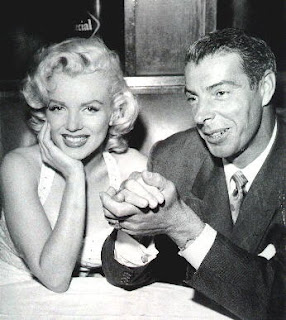 Nearly all of us know who Joe DiMaggio is, if not from his outstanding baseball career, then from his marriage to Marilyn Monroe. No matter how you remember this baseball legend, the one thing that has stood the test of time is his 56 game hitting streak. Nobody in baseball has been able to beat this streak. Many believe that sheer luck helped DiMaggio reach this record, as the only player to come close to this shattering record was Pete Rose, who hit 44 times. When the streak began on May 15, the Yanks were 14-14, 5 1/2 games behind Cleveland in fourth place. After Game No. 56 of the streak, the Yankees were 55-27 and first place with a 6-game lead over Cleveland.
During his streak, DiMaggio hit .408 (91-for-223), with 15 home runs and 55 RBIs and after extending the streak to 56 on July 16, DiMaggio led the American League in runs (80), hits (124) and RBIs (76), was tied for the lead in HR (20) and was second to Ted Williams in batting (.395 to .375). He homered for his only hit vs. Boston on July 2 — the day Lou Gehrig died. Also during the streak, he faced four future Hall of Fame pitchers — Lefty Grove, Hal Newhouser (twice), Bob Feller and Ted Lyons.
As DiMaggio's fame increased, Alan Courtney and Ben Horner wrote the song, "Joltin' Joe DiMaggio" that became a big hit for the Les Brown Orchestra, but the record wasn't released until 1942. With all of this fame, it is hard to believe that his streak almost ended at 35! On June 24 against St. Louis, DiMaggio was hitless when he batted in the seventh inning, and Browns manager Luke Sewell ordered Bob Muncrief to "walk him!" Muncrief refused, Sewell relented and DiMaggio landed a single. DiMaggio was voted the American League MVP that season over Boston's Ted Williams who hit .406 — the last time a major-leaguer hit over .400.
The streak was interrupted by the 1941 All-Star Game at Briggs Stadium in Detroit. DiMaggio was 1-for-4 against the National League. After the streak ended, DiMaggio confided to a teammate that failing to extend the streak for one more game cost him the $10,000 promised to him by the Heinz Corporation to endorse their Heinz 57 products. Imagine Joe DiMaggio, the face of Heinz products! It is hard to believe but, DiMaggio never bunted for a hit during his streak. The last pitcher to yield a hit to DiMaggio during the streak was Indians reliever Joe Krakauskas, a native of Quebec. Although DiMaggio had a 56 game hitting streak in the Major Leagues, he had a 61-game hit streak with the San Francisco Seals (Pacific Coast League) in 1933, which is the second-longest in minor-league history to Joe Wilhoit (69 games, 1919).
To read more about Joe DiMaggio and his 56-game streak, you can go here.