Philip Francis " Phil Rizzuto ", aka "The Scooter," was born on September 25, 1917 in Brooklyn, NY, the son of a street car motorman. In the past, there has been confusion about his year of birth, stemming from Rizzuto's "shaving a year off" the date at the beginning of his pro career, on the advice of teammates. Throughout his career, his birth year was reported as 1918 in both The Sporting News Baseball Register and the American League Red Book. After Rizzuto's death, the New York Post broke a story reporting Rizzuto's actual year of birth as 1916. However, it was subsequently reported that the New York City Department of Health said Rizzuto's official birth certificate is, in fact, dated 1917.
Click here to purchase Phil Rizzuto's Retired Number Plaque!
Phil Rizzuto spent his entire baseball career playing for the Yankees. He was signed as an amateur free agent in 1937 and played his first major league game on April 14, 1941. Rizzuto completed his rookie season in the World Series, and though he hit poorly, the Yankees beat the Dodgers. The following year, Rizzuto led all hitters, for both the Yankees and the opposing St. Louis Cardinals, with 8 hits and a .381 average in the 1942 World Series. His career was interrupted by a stint in the United States Navy during World War II. From
1943 through 1945, he played on a Navy baseball team alongside Dodgers shortstop Reese; the team was managed by Yankees catcher Bill Dickey.
In 1950, his MVP season, he hit .324 with 200 hits and 92 walks, and scored 125 runs. While leading the league in fielding percentage, Rizzuto handled 238 consecutive chances without an error, setting the single-season record for shortstops. He played 58 games at shortstop without an error from September 1949 through June 1950, breaking the AL record of 46 set by Eddie Joost in 1947-48. The record stood until Ed Brinkman played error-free for 72 games in 1972. Rizzuto recorded 123 double plays in 1950, three more than Crosetti's total from 1938; it remains the Yankee record. His 1950 fielding percentage of .9817 led the league, and came within less than a point of Lou Boudreau's league record of .9824, set in 1947. Rizzuto's mark was a franchise record until 1976, when Yankees shortstop Fred Stanley posted a mark of .983.
Phil Rizzuto was voted MVP of the American League in 1950 and was the only MVP in history who led the league in sacrifice bunts. Rizzuto played in five All-Star Games, in 1942 and each year from 1950 to 1953. In 1950, he also won the Hickok Belt, which was awarded to the top professional athlete of the year, and was named Major League Player of the Year by The Sporting News. He was even voted top major league shortstop by The Sporting News for four consecutive years (1949–52). Rizzuto batted .320 in the 1951 World Series, for which the New York chapter of the BBWAA later voted him the Babe Ruth Award as the Series' top player.
Ty Cobb named Rizzuto and Stan Musial as "two of the few modern ball players who could hold their own among old timers." Yankees manager Casey Stengel had famously dismissed Rizzuto during that Brooklyn Dodgers tryout in 1935 when Stengel was managing that team, advising him to "go get a shoeshine box." But Stengel ended up managing Rizzuto during five consecutive championship seasons, and would later say, "He is the greatest shortstop I have ever seen in my entire baseball career, and I have watched some beauties." During his heyday, Yankees pitcher Vic Raschi noted, "My best pitch is anything the batter grounds, lines or pops in the direction of Rizzuto." Decades into his retirement, teammate Joe DiMaggio characterized Rizzuto's enduring appeal to fans: "People loved watching me play baseball. Scooter, they just loved."
Rizzuto was released by the Yankees on August 25, 1956. Rizzuto often talked about the unusual circumstances of his release. Late in the 1956 season, the Yankees re-acquired Enos Slaughter, who had been with the team in 1954–55, and asked Rizzuto to meet with the front office to discuss adjustments to the upcoming postseason roster. They then asked Rizzuto to look over the list of Yankee players and suggest which ones might be cut to make room for Slaughter. For each name Rizzuto mentioned, a reason was given as to why that player needed to be kept. Finally, Rizzuto realized that the expendable name was his own. He called former teammate George Stirnweiss, who told him to refrain from "blasting" the Yankees because it might cost him a non-playing job later. Rizzuto said many times that following Stirnweiss' advice was probably the best move he ever made.
After his retirement, he continued his legacy with the Bronx Bombers announcing countless games for 40 years with his sincere (and sometimes kooky) remarks. His idiosyncratic style and unpredictable digressions charmed listeners, while his lively play-by-play brought a distinct energy to his broadcasts. He was well known for his trademark expression, "Holy Cow!" Rizzuto also became known for saying "Unbelievable!" or "Did you see that?" to describe a great play, and would call somebody a "huckleberry" if he did something Rizzuto did not like. He would frequently wish listeners a happy birthday or anniversary, send get-well wishes to fans in hospitals, and speak well of restaurants he liked, or of the cannoli he ate between innings. He also joked about leaving the game early, saying to his wife, "I'll be home soon, Cora!" and "I gotta get over that bridge", referring to the nearby George Washington Bridge, which he would use to get back to his home in Hillside. In later years, Rizzuto would announce the first six innings of Yankee games; the TV director would sometimes puckishly show a shot of the bridge (which can be seen from the top of Yankee Stadium) after Rizzuto had departed. Rizzuto was also very phobic about lightning, and sometimes left the booth following violent thunderclaps. In retirement, he often tutored players on the bunt during spring training. In the announcing booth, Rizzuto talked about the several different kinds of bunts he would use in different situations. Later during his broadcasting career, he occasionally expressed disappointment that the art of bunting had largely been lost in baseball.
Not all of Rizzuto's broadcasting experiences were jovial. On the evening of the funeral of former teammate Mickey Mantle (August 15, 1995 in Dallas, Texas), the Yankees were set to play a road game against the Boston Red Sox. Rizzuto understandably assumed that he would be allowed to miss the game to attend the funeral with former teammates, but was scheduled to call the game. WPIX and/or the Yankees refused to let him go, citing that "someone needed to do the color commentary." Rizzuto eventually gave into emotion and abruptly left the booth in the middle of the telecast saying he could not go on. Rizzuto announced his retirement from announcing soon afterwards, which many attributed to the incident.He was eventually persuaded to return for one more season in 1996 where he called another Yankee shortstop protégé, Derek Jeter's first home run. When he retired that season, he had spent parts of seven decades—virtually all of his adult life—in the Yankee organization as a minor league player, major league player and broadcaster. Although Mel Allen is to this day identified as "The Voice of the Yankees", Rizzuto was the longest serving broadcaster in the history of the club; he called Yankees games for 40 years to Allen's 35.
Rizzuto married Cora Anne Ellenborn on June 23, 1943; the two first met the previous year when Rizzuto substituted for Joe DiMaggio as a speaker at a Newark communion breakfast. "I fell in love so hard I didn't go home", Rizzuto recalled. He rented a nearby hotel room for a month to be near her. The Rizzutos moved to Hillside, New Jersey, in 1950, to a home on Windsor Way. With later financial successes, they moved to a Tudor home on Westminster Avenue, where they lived for many years.
During his playing days, Rizzuto (along with several other big leaguers) would work in the off season at the American Shops off U.S. Route 22 near Bayonne, New Jersey. At a charity event in 1951, Rizzuto met a young blind boy named Ed Lucas, who had lost his sight when he was struck by a baseball between the eyes on the same day as Bobby Thomson's "Shot Heard 'Round the World." Rizzuto took an interest in the boy and his school, St. Joseph's School for the Blind. Until his death, Rizzuto raised millions for St. Joseph's by donating profits from his commercials and books, and also by hosting the Annual Phil Rizzuto Celebrity Golf Classic and "Scooter" Awards. Rizzuto and Lucas remained friendly, and it was through the Yankee broadcaster's influence that Lucas's 2006 wedding was the only one ever conducted at Yankee Stadium. Lucas was one of Rizzuto's last visitors at his nursing home, days before his death.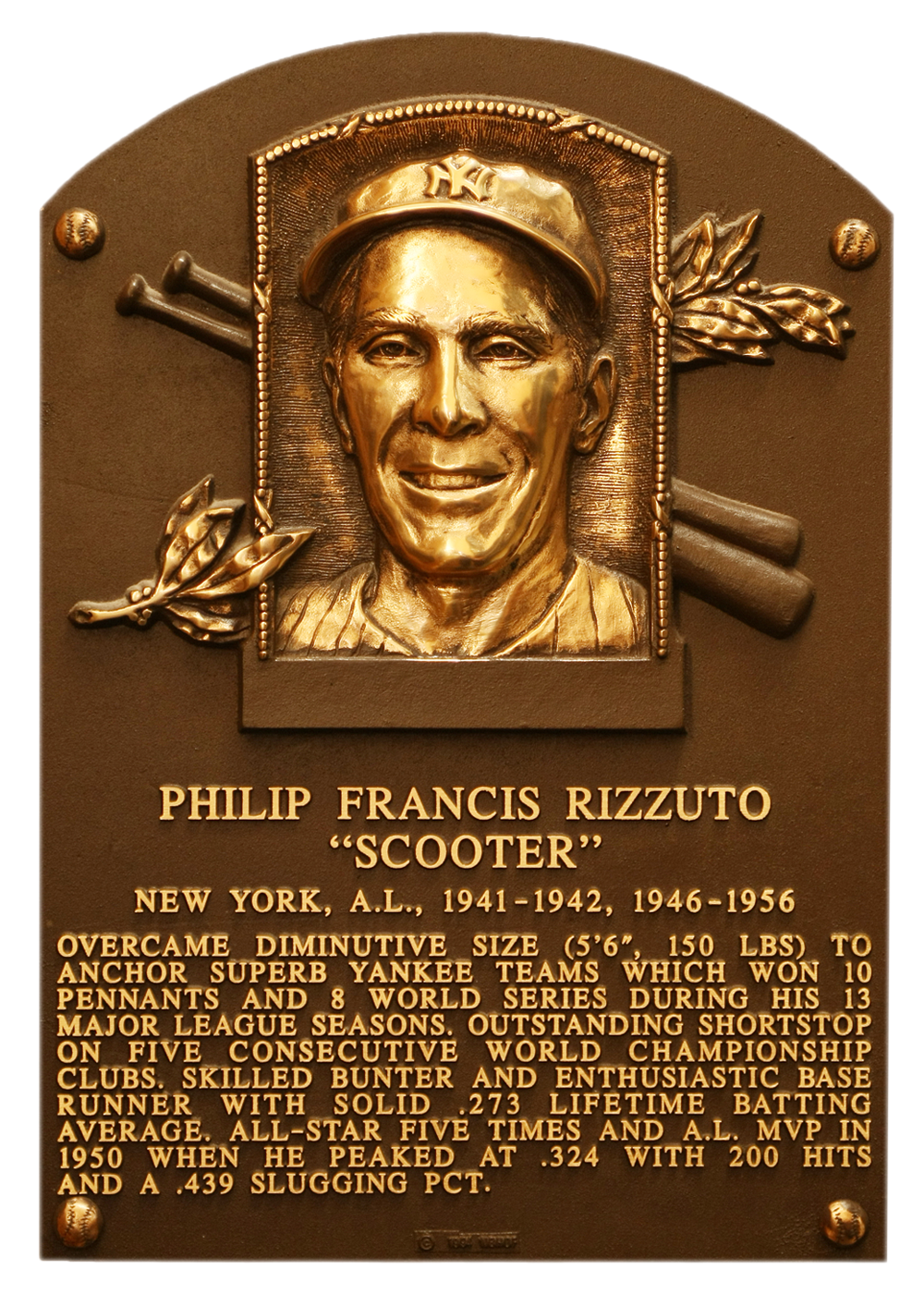 The Yankees retired Phil Rizzuto's number 10 in a ceremony at Yankee Stadium on August 4, 1985. During this ceremony, he was also given a plaque to be placed in the stadium's Monument Park. The plaque makes reference to the fact that he "has enjoyed two outstanding careers, all-time Yankee shortstop, one of the great Yankee broadcasters." Humorously, Rizzuto was accidentally bumped to the ground during his own ceremony, by a live cow wearing a halo (that is, a "holy cow"); both honoree and cow were unhurt. Phil Rizzuto later described the encounter: "That big thing stepped right on my shoe and pushed me backwards, like a karate move." He was later elected to the Hall of Fame in 1994 by the Veterans Committee, following a long campaign for Rizzuto's election by Yankee fans who were frustrated that he had not received the honor. Rizzuto himself was more modest: "My stats don't shout. They kind of whisper." The push for Phil Rizzuto became especially acute after 1984, when the committee elected Pee Wee Reese, the similarly-regarded shortstop of the crosstown Brooklyn Dodgers.
Phil Rizzuto died in his sleep on August 13, 2007, three days short of the 51st anniversary of his last game as a Yankee, and one month shy of his 90th birthday. He had been in declining health for several years and was living at a nursing home in West Orange, New Jersey for the last months of his life. At the time of his death, at age 89, Rizzuto was the oldest living member of Baseball's Hall of Fame.
To read more about Phil Rizzuto, you can go here or you can visit the National Baseball Hall of Fame's website to read more about Phil Rizzuto here.