Nicknames in baseball seem to be more recognizable than players actual names, especially if you are a Yankees fan. Out of all of the nicknames given to these star athletes, here is a list of the greatest nicknames in Yankees history.
10- Coming in at number 10, is Phil Rizzuto. Nicknamed "Scooter," this alias came about because of the way he ran around the bases. Rizzuto was signed by the Yankees in 1937 and spent the next six decades as part of the Bombers' family as a player and broadcaster. After retiring in the 1957, Rizzuto scooted to the broadcast booth to begin a nearly 40-year stint as one of the voices of the Yankees. Famed for his catchphrase "Holy Cow!" and his love of cannoli, Scooter certainly proved to be no huckleberry behind the mike either.
9- Next at number 9 is Mickey Mantle. Better known as The Mick, Muscles or The Commerce Comet, there's not a space long enough to list the greatness that is Mickey Mantle, whose pair of nicknames stem from his hitting ability (a .298 career average with 532 home runs) and his hometown (Commerce, Oklahoma). Contrary to what the latter moniker might suggest, Mantle only stole 153 bases in his 18-year career … but then again, after patrolling the cavernous center field in the old Yankee Stadium for nearly two decades, we can excuse The Mick if his legs were a little tired sometimes.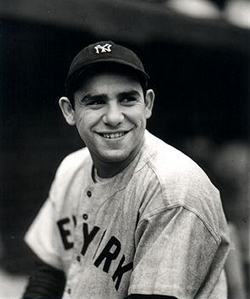 8- Lawrence Peter Berra, better known as Yogi, holds the number 8 spot on this list. His name is so iconic that many don't even know his real name! You may think his moniker stems from Yogi Bear, who shares a similar offbeat wit as Berra, but it was actually earned when a friend observed Yogi's cross-legged method of sitting. This caption would be remiss without a mention of his famous Yogi-isms, but his witty barbs are far too numerous to attempt to pare down. Hey, it gets late early around here.
7- Who better to hold the next spot than Joseph DiMaggio. At number 7, this man better known as "Joltin' Joe," "The Yankee Clipper," or simply "Joe," hit in 56 straight games, a record still yet to be broken. The guy who married Marilyn Monroe and whose name has even made a few song appearances, certainly deserves a spot on this list.
6- Next up is Don Mattingly, also known as "Donnie Baseball," was the face of the New York Yankees in the 1980's and early 1990's, a franchise cornerstone who won nine Gold Gloves and three Silver Sluggers. He was named team captain in 1991, and his No. 23 was retired in 1997. Amazingly, about the only thing Mattingly never did in pinstripes was win a championship but, we still like him anyway.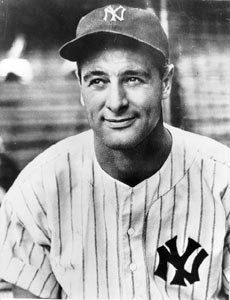 5- Lou Gehrig is next. Coming in at number 5, "The Iron Horse," first appeared as a pinch hitter on June 1, 1925. Gehrig started at first base the next day in place of a slumping Wally Pipp. He then showed up to work for the next 2,130 consecutive game days, even while (unknowingly) suffering from the beginning effects of amyotrophic lateral sclerosis – the cruel disease which prematurely ended his career and his life, and would later be named in his memory. Cal Ripken would later break Gehrig's record of 2,130 consecutive games played, but on the day his new record streak ended, Baltimore's opponent was, fittingly, the New York Yankees.
4- Reggie Jackson holds the number 4 spot with his nickname "Mr. October." Reginald Martinez Jackson polarized the Yankees' fan base like perhaps no other. Reggie claimed to be the "straw that stirs the drink" upon coming to the Bronx in 1977, and backed that up by helping lead the Yankees to their first World Championship in 15 years. That fall, Reggie truly earned the nickname accidentally given to him by Thurman Munson. Jackson hit .450 and slugged an astounding 1.250 in the 1977 World Series, bashing a Series-record five home runs.
3- Coming in at number 3, is Derek Jeter. Better known as "Mr. November," "Mr. Yankee," or even "Captain Clutch," this man hit a game-winning home run in the early morning hours of November 1, 2001. The Yankees won another World Series thanks to Jeter's hit and prompted the scoreboard operator (in homage to Reggie Jackson) to crown Derek as "Mr. November."
2- Probably the man with the most nicknames in baseball history, George Herman Ruth comes in at number 2. Better known as The Babe, The King of Crash, The Sultan of Swat, The Colossus of Clout, or The Great Bambino, it is hard to pick just one alias. With a .342 career average, 714 home runs, and a legendary curse named after him, Ruth's record speaks for itself. And to this day, the original Yankee Stadium is still known as "The House That Ruth Built."
1-Finally, the number one nickname in Yankees history belongs to George Steinbrenner. Better known as "The Boss," he purchased the Yankees from CBS in 1973, the team had gone eight years since appearing in the World Series – then the franchise's longest Fall Classic drought since their first appearance in 1921.Over the next five years, Steinbrenner orchestrated a complete overhaul of the franchise, from the players and the staff right down to the complete renovation of Yankee Stadium. It paid off, and in 1977, the Yankees brought the Commissioner's Trophy back to the Bronx for the first time since 1962. That was just the beginning of three more decades of decadence, as Steinbrenner did whatever was necessary to make the Yankees baseball's pre-eminent franchise in perpetuity, including pioneering the first deal between an MLB team and a cable network – paving the way for the YES Network as you know it today.
To read more about Yankees nicknames and to see numbers 20-11, you can go here.